Since its release in Nov 2022, ChatGPT has been making waves in the tech world. Its user-friendly interface has made GPT-3 accessible to the general public, and its capabilities have captured the imagination of many. More and more, people are beginning to ponder a future where AI-generated writing is commonplace.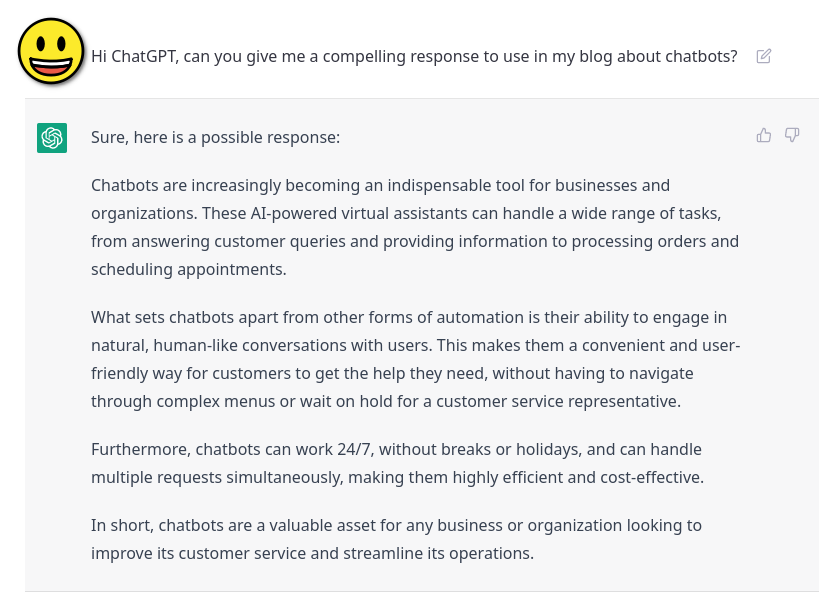 Some of these ideas are shallow. The Atlantic has a guest essay titled "The End of High-School English" that discusses capabilities of ChatGPT but fails to make a compelling case for why English education should be changed and how it could be improved. Another article, "The College Essay Is Dead", implores humanists and engineers to work together to find "ethical and and creative use of chatbots." I'd argue that humanists and engineers ought to work together with or without chatbots.
Ben Thompson's article on Stratechery, AI Homework is better researched and more thoughtful. Thompson makes the claim that the future of humans in a human-AI relationship is to be an editor. He claims boils down to "We will soon be flooded with generated-content. The real skill will be the ability to distinguish between truth from noise." That sounds incredibly pratical to me.
I think Thompson is right. We will soon see everyone using AI-generated content. In a world where many people are adept at presenting themselves as knowledgeable and competent, how do we know whom we can trust? In the future, it will be even more important to judge people based on their track record and the relationships they've built. With AI as a equalizer, being a human with good judgement and integrity will become even more crucial.
This writing brought to you with the help of ChatGPT.